view more
2015 Nat. Geo. cover story on dolphin intelligence by Brian Skerry
Expedition leading to images for National Geographic magazine:
Brian Skerry's dolphin cover story published in May 2015
It's Time for a Conversation
Breaking the communication barrier between dolphins and humans.
The cumulative grants to the National Geographic Society supported a cover story in the National Geographic Magazine on dolphin intelligence by photographer Brian Skerry. The grant funded a 10-day expedition to the Bahamas to photograph researcher Denise Herzing and Atlantic spotted dolphins, and a 2-week expedition to Argentina in Spring of 2014 to photograph Orcas predating on seals on the beach, a phenomenon found nowhere else in the world. The story, published in 2015, is extremely timely given the current debate on dolphin captivity and the state of dolphin populations around the world.
2016 Nat. Geo. story on Great White Shark by Brian Skerry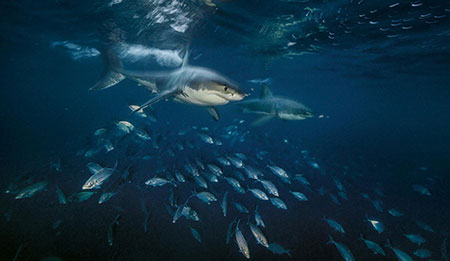 Expedition leading to images for National Geographic magazine:
Brian Skerry's Great White Shark story published in July 2016
Why Great White Sharks Are Still a Mystery to Us
Thanks to Jaws, they're the ocean's most iconic and feared fish. But we know surprisingly little about them.
2017 Nat. Geo. picture story on Manta Rays by Thomas Peschak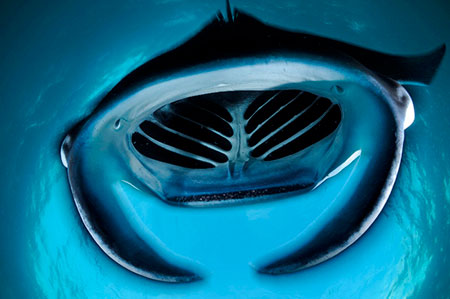 Expedition leading to images for National Geographic magazine and Tom's book on manta rays:
Thomas Peschak's Manta Rays picture story published in November 2017
Inside the World of Manta Rays
A photographer captures stunning underwater images on a journey to save the gentle giants.
Manta: Secret Life of Devil Rays
Thomas P. Peschak & Guy Stevens, Manta Trust, 2016
Born into a life of perpetual motion, manta rays must keep swimming to survive. Driven forward by powerful beats of their wing-like pectoral fins, they search the ocean currents for concentrated patches of the tiny planktonic organisms on which they feed. They are giants of their kind, ranging throughout the world's tropical and subtropical oceans, where their horn-like cephalic (head) fins gave rise to ancient mariners' tales of fearsome ̀devil fish' that dragged boats into the ocean depths. Today we know that these gentle giants are harmless to humans, but much else about their lives remains a mystery. Fundamental questions, such as how long they live and their reproductive cycles and fecundity, have yet to be answered satisfactorily. Areas of key habitat use, migration corridors and population estimates, both nationally and internationally, must also be clearly defined if we are to make the informed and educated decisions needed to protect effectively these animals and the world they inhabit. For the past decade, marine biologist and leading manta expert Guy Stevens has devoted his life to answering the important questions about manta rays. Now he has joined forces with award-winning National Geographic photographer Thomas P. Peschak to produce this book. It combines groundbreaking photography, personal experiences and the latest scientific research to create the definitive publication about these charismatic animals. Manta rays are the embodiment of nature's majesty, the vehicle that draws people through the looking glass, opening eyes and minds. They captivate people and connect them to our oceans, symbolising what is at stake if we choose not to respect and protect our natural heritage. As co-founders of conservation charity the Manta Trust, the authors hope that these iconic images and enlightening words not only convey the true grace and inquisitive nature of these threatened rays, but also demonstrate what we stand to lose if we choose not to protect them and our oceans.
2017 Nat. Geo. story on the Galapagos by Thomas Peschak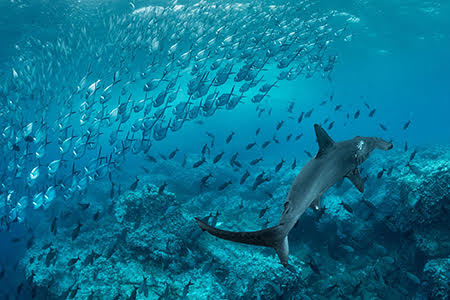 Expedition leading to images for National Geographic magazine:
Thomas Peschak's Galapagos story published in June 2017
A Warming Planet Jolts the Iconic Creatures of the Galápagos
Species that inspired Darwin's theory of natural selection are facing new challenges to adapt.
2019 Nat. Geo. cover story on Sea Turtles by Thomas Peschak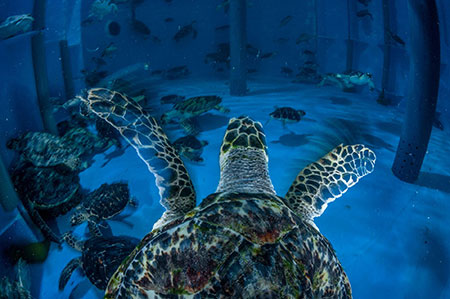 Expedition leading to images for National Geographic magazine:
Thomas Peschak's Sea Turtle Cover Story published in October 2019
Sea turtles are surviving—despite us
These reptiles have roamed the oceans for 100 million years. We've put them at risk, but with a little help, they're rebounding.
ASPCA
The American Society for the Prevention of Cruelty to Animals (ASPCA) was the first humane society to be established in North America and is, today, one of the largest in the world.
Our organization was founded on the belief that animals are entitled to kind and respectful treatment at the hands of humans and must be protected under the law. Headquartered in New York City, the ASPCA maintains a strong local presence, and with programs that extend our anti-cruelty mission across the country, we are recognized as a national animal welfare organization. We are a privately funded 501(c)(3) not-for-profit corporation, and are proud to boast more than 2 million supporters across the country.
The ASPCA's mission, as stated by founder Henry Bergh in 1866, is "to provide effective means for the prevention of cruelty to animals throughout the United States."
Avaaz - anti-poaching campaign
Elephants, rhinos, pangolins, and gorillas: their survival depends on delicate, shoe-string budgets to fund their protection -- andCoronavirus has butchered that lifeline. An army of 40,000 rangers once protected these incredible animals. Now half could lose their jobs, leaving wildlife at the mercy of poachers and criminals.
Throughout the pandemic, a scrappy team of undercover investigators has worked around the clock to track and prosecute bloodthirsty poaching rings in nine African countries.They're a poacher's worst nightmare-- already jailing thousands!
This is our chance to be a lifeline for critically exposed and vulnerable wildlife. If enough of us chip in just the cost of a coffee, we could help lock up even more criminals, expose international trafficking networks, and accelerate our global campaigns to protect nature and save Earth's most vulnerable species.
BirdLife International
BirdLife International is a global partnership of conservation organisations (NGOs) that strives to conserve birds, their habitats and global biodiversity, working with people towards sustainability in the use of natural resources. Together we are over 100 BirdLife Partners worldwide – one per country or territory – and growing.
We are driven by our belief that local people, working for nature in their own places but connected nationally and internationally through our global Partnership, are the key to sustaining all life on this planet. This unique local-to-global approach delivers high impact and long-term conservation for the benefit of nature and people.
BirdLife is widely recognised as the world leader in bird conservation. Rigorous science informed by practical feedback from projects on the ground in important sites and habitats enables us to implement successful conservation programmes for birds and all nature. Our actions are providing both practical and sustainable solutions significantly benefiting nature and people.
Cape Leopard Trust
Since its inception in 2004, The Cape Leopard Trust has become the authority on predator conservation in the Cape, and one of the leading authorities in South Africa. Cape leopards, along with the Arabian leopard, are the smallest leopards in the World. They are half the size of normal African leopards, and only occur in the Cape Mountains where they are threatened by farmer-predator conflict and habitat loss. Focused on Nature financed the purchase of 4 GPS leopard collars to help further research on the breeding and dispersal behaviours of these mountain leopards. The former includes basic reproductive and survival data, while the latter provides CLT with valuable insight into important corridors for conservation.
CERCOPAN
The place with the highest number of primate species on the entire African continent is an ancient rainforest in South-Eastern Nigeria. CERCOPAN strives to conserve this forest and to protect its monkeys because both are highly threatened. For effective results, we provide education and practical options for the local communities so that their dependence on the forests becomes sustainable rather than destructive. While hunting threats remain, we provide sanctuary and individual care for orphan monkeys, progressing through their rehabilitation to reintroduction, in suitable cases, into the forest we protect.
Charles Darwin Foundation
The Charles Darwin Foundation for the Galapagos Islands (CDF) is an international non-profit organization dedicated to scientific research. CDF has carried out its mission in the Galapagos since 1959, thanks to an agreement with the Government of Ecuador and with the mandate to pursue and maintain collaborations with government agencies by providing scientific knowledge and technical assistance to promote and secure conservation of Galapagos.
For 60 years, CDF has worked in close partnership with the Galapagos National Park Directorate (GNPD), the principal provincial authority for environmental management, with the goal of protection of the Islands' natural resources and the sharing of scientific results for the conservation of this living laboratory.
Darewin/THINK project
Intelligent life on our planet abounds, especially in the ocean. Many species of dolphins and whales have brains that are larger than ours, and in many ways more evolved and complex. These animals may also share our capacity to communicate with one another in sophisticated ways that we are just on the cusp of understanding. DAREWIN's mission is to better understand dolphin and whale click communication and perhaps, one day, make contact with these extraordinary animals.
Dominica Sperm Whale Project
The Dominica Sperm Whale Project is an innovative and integrative study of the world's largest toothed whale. Through thousands of hours of observation of sperm whale families, the population of whales in the Caribbean has given us the unique opportunity to come to know them as individuals within families. Our program is the first to have followed sperm whale families of whales across years. We have followed many calves from birth through weaning and we now know that some families have been using the region for decades. No sperm whale population has been this well characterized and the detailed behavioural histories of these individuals are rare among mammals, particularly in the ocean.
Faune Alfort
French animal care association, partnering with the Alfort veterinary school near Paris.
Fins Attached
The health of any ecosystem is controlled largely by its apex predators. So, while our work aims to impact the marine ecosystem as a whole, much of our research is focused on the apex predators of the marine environment, which are sharks. Fins Attached believes in a multi-pronged approach to protecting sharks and our oceans. The data obtained from the research is what drives the conservation message. The combination of the research and conservation is what dictates the education narrative. Ultimately, if anything is to happen to protect sharks, then international policy must be changes to conserve sharks.
Four Paws International
FOUR PAWS is the global animal welfare organisation for animals under direct human influence, which reveals suffering, rescues animals in need and protects them.
Our vision is a world where humans treat animals with respect, empathy and understanding.
FUNDAECO
Strategic purchase of 2000 acres of humid subtropical forest in the Cuchumatanes mountains of northwest Guatemala.
The Sierra de los Cuchumatanes in northwestern Guatemala is the highest non-volcanic range in Central America, and a hotbed of unique and threatened amphibians including the Finca Chiblac Salamander, Long-limbed Salamander, Jackson's Climbing Salamander and the critically endangered and beautiful Morelett's Black-eyed Treefrog. The mountain range, cloaked in lush forest that filters water into the azure Laguna Maxbal, is also an important bird area, supporting populations of three globally threatened species. The remoteness of the area has protected much of the forest to date, but increasing pressures from corporations looking to exploit the coffee-growing potential of the land place these unique forests at risk, and the area has been identified as one of the highest priorities for biodiversity conservation.
This grant assisted local NGO FUNDAECO to acquire a 2000-acre property called Finca San Isidro, and protect an important tract of humid subtropical forest and its unique inhabitants. FUNDAECO already has a presence and a local office in the area, making them ideally placed to engage with local communities and ensure long-term sustainability of the project.
Giving Nature a Voice
Nature needs a voice in Africa and so do the people whose lives depend on a healthy environment. That is the critical mission of AKU GSMC's Environmental Reporting Program.
East Africa desperately needed a regular platform for locally produced environmental documentaries that would engage, illuminate and help reverse a dangerous trajectory. Now thanks to the young filmmakers we've trained and supported, that powerful message is reaching millions of Kenyans on prime time TV, and on international media platforms.
Together we've produced over 50 award-winning documentaries on East Africa's most critical environmental crises. Seen in schools, museums and local communities, the films can help create the popular groundswell that will goad and inspire leaders of government, business and civil society to act, before it's too late.
Global Conservation
Today, world heritage and national parks are becoming our Last Bastions of Defense against the decimation of wildlife and primary forests.
Illegal poaching, logging, mining, land clearing and human encroachment are destroying our last intact wild places in the developing world.
In the next decade, we will destroy over 50% of our last remaining intact wildlife habitats for megafauna - tigers, primates, bears, lions, elephant and rhinos.
At current rates of deforestation, the last major intact primary forests in developing countries will reside only in best protected national parks and world heritage sites.
Global Conservation is the only nature conservation group who's sole mission is the direct funding of park protection systems for saving our most important and endangered world heritage and national parks in developing countries.
Global Wildlife Conservation
Variety is not only the spice of life, its critical to human survival. The diversity of life and all its connections make Earth different from all other planets. The air we breathe and the food we eat rely on biodiversity. Global Wildlife Conservation's mission is to conserve the diversity of life on Earth, where all of life has value and can flourish -plant, animal, and human. With your help, we can retain, restore and revitalize our planet. Every species we save prevents irreversible changes to our planet—changes with ramifications we don't fully understand.
While our planet faces many challenges, we maintain focus on saving wildlife and protecting their homes. Preventing extinction is critical to the biodiversity that fuels our thriving planet. Today, the extinction rate is 1,000-10,000 times faster than the historic rate of extinction. Most endangered animals receive little to no protection. Charismatic animals, such as tigers, elephants and pandas receive the most attention and aid. They are the fortunate minority.
Global Wildlife Conservation: Amazon Fires
Variety is not only the spice of life, its critical to human survival. The diversity of life and all its connections make Earth different from all other planets. The air we breathe and the food we eat rely on biodiversity. Global Wildlife Conservation's mission is to conserve the diversity of life on Earth, where all of life has value and can flourish -plant, animal, and human. With your help, we can retain, restore and revitalize our planet. Every species we save prevents irreversible changes to our planet—changes with ramifications we don't fully understand.
Global Wildlife Conservation: Australian Bushfires
Variety is not only the spice of life, its critical to human survival. The diversity of life and all its connections make Earth different from all other planets. The air we breathe and the food we eat rely on biodiversity. Global Wildlife Conservation's mission is to conserve the diversity of life on Earth, where all of life has value and can flourish -plant, animal, and human. With your help, we can retain, restore and revitalize our planet. Every species we save prevents irreversible changes to our planet—changes with ramifications we don't fully understand.
Global Wildlife Conservation: Borneo Fires
Variety is not only the spice of life, its critical to human survival. The diversity of life and all its connections make Earth different from all other planets. The air we breathe and the food we eat rely on biodiversity. Global Wildlife Conservation's mission is to conserve the diversity of life on Earth, where all of life has value and can flourish -plant, animal, and human. With your help, we can retain, restore and revitalize our planet. Every species we save prevents irreversible changes to our planet—changes with ramifications we don't fully understand.
Global Wildlife Conservation: Rainforests
Variety is not only the spice of life, its critical to human survival. The diversity of life and all its connections make Earth different from all other planets. The air we breathe and the food we eat rely on biodiversity. Global Wildlife Conservation's mission is to conserve the diversity of life on Earth, where all of life has value and can flourish -plant, animal, and human. With your help, we can retain, restore and revitalize our planet. Every species we save prevents irreversible changes to our planet—changes with ramifications we don't fully understand.
Gunung Palung Orangutan Conservation Program
Gunung Palung National Park, located in West Kalimantan, Indonesia, represents one of the most important blocks of orangutan habitat left in the world. Approximately 10-20% of all the Bornean orangutans are found there, and the Gunung Palung Orangutan Conservation Program (GPOCP) has been working for almost 15 years to conserve this vital wild orangutan population. The FON grant was applied to the rebuilding of the Cabang Panti research station where research on wild orangutans is conducted; the Alternative Livelihoods Program which tackles one of the primary reasons for rainforest destruction —the slash and burn agriculture practiced by people surrounding the Park; and to cover part of the staff costs. Finally, a portion of the grant was applied to an exploratory trip to Sarawak, Borneo, to investigate an unstudied population of orangutans.
Hoja Nueva
Hoja Nueva's mission is to confront deforestation and defaunation in the Peruvian Amazon. To accomplish this, we aim to strategically acquire conservation lands and create corridors, build capacity within remote and indigenous communities through one health and alternative income opportunities, implement rigorous scientific research, and rescue, rehabilitate and reintroduce threatened species to the wild.
The urgency of conserving the Earth's rainforests now goes beyond cultural and wildlife preservation. As a component of the recent Paris Accord on climate change, protecting the Amazon rainforest is vital to the planet's survival. However, more in-situ research is necessary in coupled human-environment systems in the Amazon's changing landscapes, in addition to biodiverse, healthy rainforests. We consult and cooperate with local governments and departments, as well as agricultural associations and NGOs to ensure sustainable development while maintaining healthy forests, creating a future where both humans and nature can thrive.
Humane Society
Humane Society International works around the globe to promote the human-animal bond, protect street animals, support farm animal welfare, stop wildlife abuse, eliminate painful animal testing, respond to natural disasters and confront cruelty to animals in all of its forms.
ILCP - Puma Pictures Film, Torres del Paine National Park, Chile
Found all the way from Alaska to Patagonia, pumas are the most widely dispersed big cat in the western hemisphere, as well as the most adaptable to different environmental conditions and the presence of mankind.
Given their inherent caution and stealthy nature, they're nearly impossible to see in the wild — unless you're being stalked by one. About the only place on the planet (other than a zoo) where you're almost guaranteed a puma sighting is Torres del Paine National Park in southern Chile, home to about 50 of the big tawny colored cats.
Pumas have roamed the Earth for a long time and are known by a number of different names including panther, cougar, mountain lion, catamount, mountain screamer and painter. While cougar is the more commonly used term in North America, South Americans call them puma — a Quechua word meaning powerful.
Chile boasts three subspecies: Felis concolor puma in the Atacama Desert and Altiplano of northern Chile; Felis concolor araucanus in the Central Valley; and Felis concolor patagonica in the southern Andes and adjacent pampas.
Their relatively high numbers in 900-square-mile Torres del Paine is due to abundant prey (especially hares and guanacos), the vast expanse with few human inhabitants, the camouflage provided by the park's yellow grasses and reddish scrub, and the fact they haven't been hunted for so long within the park boundaries.
They have to travel over large expanses of treeless terrain to find, stalk and catch their prey — so they can't hide all the time.
Puma are not enormous when compared to the hemisphere's other big cat, the jaguar. Full-grown males stand about three feet at the shoulder and weigh up to about 220 lbs. They have amazing leaping potential, able to spring 15 feet without a running start and they can sprint at about 40-50 miles per hour. Adult females weigh between 64 and 140 lbs.
During the Patagonian summer (May–Oct), pumas tend to hunt in mountainous areas. But during the winter they follow the guanaco herds down to the areas below the snow line. So there's probably a better chance of seeing them in the winter, when the park is much less busy.
International League of Conservation Photographers
Focused on Nature's $15,000 grant to the International League of Conservation Photographers for the Yucatan Rapid Assessment Visual Expedition facilitated 30 world-renowned photographers to produce a comprehensive visual library of the Yucatan Peninsula in Mexico and all the biological diversity it supports. Photographers included: Paul Nicklen, Brian Skerry, Christian Ziegler, Joe Riis, Klaus Nigge, and Daniel Beltra. In addition to producing the visual library, which was shared with local non-profit organisations across the Yucatan free of charge, the grant sparked four long-term conservation photography projects : one for Klaus Nigge, which resulted in a story in National Geographic Magazine on Flamingoes; two for Brian Skerry, one which resulted in a story in National Geographic Magazine on the Mesoamerican Reef, and another in Smithsonian Magazine on Whale Sharks; and one for Paul Nicklen, which resulted in a National Geographic Magazine story on Cenotes.
In 2021, Focused on Nature supported ILCP's "Puma pictures film" campaign with a donation of $10,000.
IUCN
The International Union for Conservation of Nature (IUCN) is a membership Union composed of both government and civil society organisations. It harnesses the experience, resources and reach of its more than 1,300 Member organisations and the input of more than 15,000 experts. This diversity and vast expertise makes IUCN the global authority on the status of the natural world and the measures needed to safeguard it.
Jane Goodall Institute
From the beginning, science has been core to the Jane Goodall Institute's work. We continue to build on the legendary scientific contributions of Dr. Jane Goodall with our field research at Gombe, our chimpanzee sanctuary in Tchimpounga, and community-centered conservation work around the world.
Each advance we make in the use of science and technology illuminates new next steps and allows us to better protect the web of life that connects all living things. Today, we're using science and technology in ways that were impossible only a decade ago. We hone in on locations for conservation, assess the state of habitat, and track progress in restoring the land to viable chimpanzee habitat.
Jocotoco Conservation Foundation
In 1998, we created Fundación de Conservación Jocotoco, an Ecuadorian non-governmental organization (NGO), to protect areas of critical importance for the conservation of threatened species in Ecuador. We achieve this goal by acquiring and managing land as biological reserves. So far, we have established a network of 16 reserves, which together add up to 24,500 hectares.
All the Jocotoco reserves have been recognized as Important Areas for Bird Conservation, and they are within hotspots of Biodiversity. Two of them are recognized as sites of the Alliance for Zero Extinction (AZE). Our reserves are home to more than 1,000 species of birds, of which over 51 are threatened with extinction on a global scale, and with more than 100 species being regional endemics or with a restricted geographical distribution. At least 200 species of amphibians and reptiles are protected at our Jocotoco reserves, many of which are threatened and range-restricted, and also several newly discovered to science. Large and rare mammals inhabit our reserves including Spectacled Bear, Mountain Tapir, Chocó Tapir, Puma, and Jaguar.
Maasai Wilderness Conservation Trust
The Maasai Wilderness Conservation Trust works to protect the legendary ecosystems and astounding biodiversity of East Africa through conservation that directly benefits local Maasai communities.
Manta Trust
Formed in 2011, The Manta Trust is a UK registered charity that co-ordinates global mobulid research and conservation efforts. Our team is comprised of a diverse group of researchers, scientists, conservationists, educators and media experts; working together to share and promote knowledge and expertise. Our mission is to conserve mobulid rays, their relatives, and their habitats, through a combination of research, education and collaboration.
Nat Geo Campaign for Sumatran Rhinos
Thousands of Sumatran rhinos once roamed throughout Southeast Asia. But in the past decade, their numbers have dwindled to fewer than 80. If we don't act now, we could lose this species forever.
Decades of poaching and habitat loss have cut the number of Sumatran rhinos to just 80, who cling to survival in remote populations on two Indonesian islands. Their biggest threat now is isolation, and the odds of adult rhinos finding compatible mates in the wild are dwindling.
Analliance of conservation organizations, including the National Geographic Society, joined together to support the government of Indonesia's national Sumatran rhino conservation breeding effort. This rescue effort will relocate rhinos and build facilities for their care and breeding in order to bring the species back from the brink of extinction:
Establish two new Sumatran rhino sanctuaries in Indonesia, one in Indonesian Borneo and the other in northern Sumatra, and expand the existing facility in Way Kambas National Park.
Find as many rhinos as possible living in small, isolated populations in Indonesia and relocate them to managed conservation breeding facilities nearby.
Incorporate the rhinos into a single conservation breeding program that uses state-of-the-art veterinary and husbandry care to maximize population growth.
Nat Geo Campain for Nature
The National Geographic Society has joined with other conservation partners across the globe as part of the Wyss Campaign for Nature. On October 31, 2018, the Wyss Foundation announced it would donate an unprecedented $1 billion to this campaign to protect our planet's lands and ocean and ensure that future generations can drink clean water, breathe clean air, and experience the wonders of the natural world.
The campaign's goal is to help conserve 30 percent of the planet in a natural state by 2030 by creating and expanding protected areas, establishing ambitious international conservation targets, investing in science, and inspiring conservation action around the world. Only by dramatically increasing the capacity of communities, indigenous peoples, and nations to conserve lands, waters, and wildlife can we hope to safeguard the natural world upon which we all depend. Learn more about the Campaign for Nature here.
Oceana
Oceana was established by a group of leading foundations — The Pew Charitable Trusts, Oak Foundation, Marisla Foundation (formerly Homeland Foundation), Sandler Foundation, and the Rockefeller Brothers Fund — after a 1999 study they commissioned discovered that less than 0.5 percent of all resources spent by environmental nonprofit groups in the United States went to ocean advocacy. No organization was working exclusively to protect and restore the oceans on a global scale.
To fill the gap, our founders created Oceana: an international organization focused solely on oceans, dedicated to achieving measurable change by conducting specific, science-based policy campaigns with fixed deadlines and articulated goals. The Ocean Law Project — also initiated by The Pew Charitable Trusts — was absorbed into Oceana in 2001 as Oceana's legal arm. In 2002, Oceana merged with American Oceans Campaign, founded by actor and environmentalist Ted Danson, to more effectively address our common mission of protecting and restoring the world's oceans.
Since its founding, Oceana has won more than 200 victories and protected more than 4.5 million square miles of ocean. Find out more about how Oceana is helping to save the oceans victory by victory.
re:wild
Protecting the Maya Forest corridor
The Maya Mountains of Southern Belize and the Selva Maya of Guatemala, Mexico and Belize make up the Maya Forest, the largest remaining forest in the Mesoamerica Biodiversity Hotspot. They are connected by a single thread of forest known as the Maya Forest Corridor. This tiny tract of forest is essential to keeping the majestic Maya Forest from being split into two smaller forests and guaranteeing the survival of the species that live there.
Rhino Pride Foundation
Established in South Africa in 2015, the Rhino Pride Foundation was founded by specialist wildlife veterinarian Dr Jana Pretorius, who saw an urgent need to tackle the devastating rhino poaching crisis head-on. Realising that most anti-poaching solutions focused only on the aftermath of poaching, Dr Pretorius established the Foundation to establish immediate, practical, ground-level preventative measures that would protect rhinos from poachers effectively and reliably.
The Rhino Pride Foundation works to create layered security sanctuaries with ultra-secure perimeters. Utilising technology to track and stop poachers, the sanctuaries feature high-tech early warning systems with buffer zones. These enable reaction teams to locate and apprehend poachers before they can gain access to the reserves. As well as saving wildlife, this tech-based approach minimises the human cost of anti-poaching efforts in a war where too many lives are lost.
Sea Turtle Conservancy
STC's advocacy program is addressing the threats that face U.S. and International sea turtle populations. Drawing on STC's five decades of international sea turtle conservation experience, our Policy Initiatives work to improve the survival outlook for marine turtles in the United States, especially in Florida, by raising national awareness, advocating for protection of sea turtles and their habitat and by empowering small, local sea turtle groups. Representatives from STC regularly provide testimony to Congress, federal agencies and state officials on issues affecting sea turtles and their habitat. STC closely monitors all issues related to the survival of sea turtles and informs conservationists, the media and STC members about steps that should be taken to ensure sea turtle survival. STC also engages in direct advocacy designed to influence legislation or other policy decisions that will affect sea turtles.
STC works to enact protective laws and establish refuges for the preservation of sea turtle habitats and coastal environments. The organization was instrumental in creating the Tortuguero National Park in Costa Rica. In the United States, STC worked with other groups and agencies to establish the Archie Carr National Wildlife Refuge and continues to lobby Congress and government agencies to purchase the lands necessary to complete the refuge. STC's international efforts include advocating for sea turtles at the United Nations Convention on International Trade in Endangered Species, and protecting one of the most important sea turtle nesting beaches in the world by helping prevent off-shore oil-drilling in Costa Rica.
Sea Turtle Conservancy
It is the mission of Sea Turtle Conservancy to ensure the survival of sea turtles within the Caribbean, Atlantic and Pacific through research, education, training, advocacy and protection of the natural habitats upon which they depend.
The Sea Turtle Conservancy, formerly known as the Caribbean Conservation Corporation, is the world's oldest sea turtle research and conservation group. An international nonprofit 501(c) 3 organization, Sea Turtle Conservancy was founded in 1959 by world-renowned sea turtle expert Dr. Archie Carr to save sea turtles from eminent extinction through rigorous science-based conservation. Headquartered in Florida, the organization carries out worldwide programs to conserve and recover sea turtle populations through research, education, advocacy and protection of the natural habitats upon which they depend. Over the course of over 60 years, Sea Turtle Conservancy's research programs have yielded much of what is now known about sea turtles and the threats they face, and the organization is applying this knowledge to carry out the world's most successful sea turtle protection and recovery programs.
Shark Conservation Fund
The Shark Conservation Fund (SCF) is a collaboration of philanthropists dedicated to solving the global shark and ray crisis. Our goal is to halt the overexploitation of the world's sharks and rays, prevent extinctions, reverse population declines, and restore imperiled species through strategic and catalytic grantmaking.
The plight of sharks and rays is an international crisis. Scientists estimate that more than 100 million sharks are killed every year and that nearly a quarter of all shark and ray species are facing extinction, placing them among the most threatened vertebrates on the planet. As these predators play critical ecological, cultural, and economic roles in our oceans and coastal communities, their declining numbers are a growing threat to the health of the ocean and jeopardize the livelihoods and food security of millions of people around the world.
The current scale of conservation efforts does not match this level of crisis. Major investments are urgently needed worldwide in policy development, outreach and advocacy, conservation science, communications and media, capacity building, and long-term monitoring. It is vital that we step up action to save our sharks and rays. SCF believes that we need a globally coordinated conservation strategy to effectively tackle the current crisis and affect real change in protecting shark and ray populations.
We are working at the local, national, and international levels, investing strategically in projects that can turn the tide for imperiled sharks and rays around the world.
Sheldrick Wildlife Trust
The Sheldrick Wildlife Trust exists to protect Africa's wildlife and to preserve habitats for the future of all wild species. Working across Kenya, our projects include anti-poaching, safe guarding the natural environment, enhancing community awareness, addressing animal welfare issues, providing veterinary assistance to animals in need, rescuing and hand rearing elephant and rhino orphans, along with other species that can ultimately enjoy a quality of life in wild terms when grown.
Soi Dog
Soi Dog Foundation (Soi Dog) was established in 2003 in Phuket, Thailand, to help the street dogs and cats who had no-one else to care for them. Over 70,000 strays roamed the island, with the numbers growing alarmingly due to a lack of spay and neuter programmes to control the population. Soi Dog was created to provide a humane and sustainable solution to managing the stray population and to address their medical needs. Funding then, as it does now, came entirely from individuals who shared, and continue to share, the vision of our founders.
Our work with street animals consists of spaying and neutering to prevent unwanted puppies and kittens being born into short lives of suffering, along with the rescue, vaccination, medical treatment, sheltering, and adoption of those that cannot be returned to their territory.
The Mangrove Marine Park, DRC
The Mangrove Marine Park (which has National Park status along with eight others in the DRC) is located at the mouth of the Congo River, in the province of Kongo-Central, in the territory of Muanda.
The Mangrove Marine Park (MMP) with an area of 76,800 ha was created in 1992 by Ministerial Order N°044/CM/ECN/92 of 2 May 1992. It is the only marine park in the Democratic Republic of Congo. Located at the mouth of the Congo River, the MMP was created to ensure the safeguard of the unique biotope of the Congo Delta and the Atlantic coastline, but also to contribute to the promotion of ecotourism and sustainable development of the territory in general. Since January 18, 1996, the Park has been included in the list of the RAMSAR Convention, which identifies wetlands of international importance, and since April 11, 2000, it has also been included in the Montreux Register (which lists RAMSAR sites in danger). The MMP includes : 1° about 30,000 ha of mangroves, small and large species ; 2° a coastal line oriented SSE-NNW that includes 3 cliffs interrupted by two estuaries, a barrier beach and a 2 km deep strip of the Atlantic Ocean extending from the coast to the open sea ; 3° wet savannahs. All the habitats of the MMP are home to African manatees, the egg-laying areas of five species of marine turtles, the last hippopotamuses of Kongo-Central, talapoins (mangrove monkeys), more than 290 species of birds (grey and goliath herons, storks, eagles, grey parrots, cormorants, grackles, whistling ducks, francolins, guinea fowl), small and large mammals (including buffaloes, sitatungas, hylochers and potamochers, duikers, harnessed guibs), 22 species of amphibians, 23 species of reptiles, periophthals and many other fish, crabs, shrimps and other crustaceans (many of which are endemic), as well as a wide variety of tropical wetland vegetation.
The MMP is a recognized breeding area for aquatic species, but also, at the level of the wet savannahs, rich agricultural lands, both of which represent for the riparian populations, under the condition of reasonable practices, sustainable food sources.
The Selous in Africa by Robert J. Ross
The Selous Game Reserve in Tanzania is one of the last remaining great wilderness areas in Africa. Encompassing more area than Switzerland and proclaimed a UNESCO World Heritage Site in 1982, the Selous is Africa's oldest and largest protected area and remains one of the continent's greatest undisturbed ecosystems. Teeming with life-elephants, giraffes, more lions than any other protected area on the continent, large packs of wild dogs, and vast herds of buffalo-the Selous is a crown jewel of biodiversity and wilderness preservation.
The Selous in Africa: A Long Way from Anywhere by Robert J. Ross features nearly 400 photographs of this extraordinary place. Not only the large megafauna typically seen in a photographic book on African wildlife; but also the fantastic and often-overlooked smaller creatures, birds, and insects, along with dramatic landscapes, are captured in these breathtaking images.
Tropical Herping
Tropical Herping is an initiative striving to preserve tropical biodiversity through tourism, photography, and education. Our goal is to create a passion for amphibians and reptiles among the greatest number of people in order to obtain the support needed to address the most urgent conservation challenges faced by this group of animals.
Turtle Conservancy
The Turtle Conservancy is dedicated to protecting threatened turtles and tortoises and their habitats worldwide. Turtles are among the most threatened groups of animals on the planet, and are in desperate need of conservation help. More than half of their 300+ species are threatened with extinction according to IUCN Red List criteria. Primary threats to turtles and tortoises include habitat loss and degradation, high-volume unsustainable consumptive exploitation for food and medicinal products, and illegal international pet trade.
Whale and Dolphin Conservation
Over the past 20 years, WDC has supported around 185 conservation field projects in over 40 countries, spanning all major ocean regions and relevant river basins. These projects include scientific work such as abundance estimation, population dynamics and behavioural studies, research on threats and threat mitigation, as well as a broad range of conservation initiatives such as encouraging government authorities to designate areas of marine protection; working with local law enforcement agencies; and developing alternative fishing activities to reduce bycatch.
WDC is acutely aware that such programmes can only be successful with the full support and participation of local people and aims to identify and work closely with local scientists, conservationists, educators and other community members in each region, in order to ensure long-term solutions for both cetaceans and their often shared, environment.
Wild dolphin Project
Dr. Denise Herzing, Research Director of the Wild Dolphin Project (WDP), has been studying the same community of wild Atlantic spotted dolphins in the Bahamas for 30 years. Her research is well known and is grounded in science. Dr. Herzing is now moving into a new phase of research to "Crack the Code" of their communication system. We conserve what we love, and by understanding their communication and intelligence WDP hopes to create awareness of all sentient species and their place on Earth. The FON grant facilitated this new approach.
Wild Dolphin Project uses a unique, non-invasive model to study two communities of free-ranging dolphins in the Bahamas. WDP emphasizes the importance of observing and interacting with these animals in a "hands-off" approach. This method has gained the trust of the animals, allowing researchers to observe and document them in their natural environment. These observations are carefully and methodically are recorded into a large database, which contains over 30 years (4-generations of dolphins) of data.
Because of the digital revolution we are now able to record the ultrasonic sounds of dolphins, previously inaccessible with old video units. With our underwater video dataset of acoustic, postural, and visual signals of three generations of dolphins we are situated to crack the code of dolphin communication. WDP continues to collaborate with a team at Georgia Tech to develop pattern recognition software designed for unique pattern discovery in dolphin sounds.
Decoding dolphin vocalizations is also the first step in many to the ultimate goal of two-way communication with another species. Simultaneous with decoding their own vocalizations, we are engaged in an ambitious program to develop an underwater acoustic interface, CHAT, to explore the cognitive capacities, and communication interest level, in a two-way communication system.
Wildlife Conservation Society
Niassa National Park in Northern Mozambique and neighbouring Selous National Park in Tanzania support the largest remaining population of Savannah elephants in Africa, estimated at 13,000 individuals. Unfortunately, the Niassa-Selous landscape is also ground zero for elephant poaching: scientists reported that 3,000 elephants were killed for their ivory in the area in just one year.
Focused on Nature's $30,000 grant to the Wildlife Conservation Society (WCS) is being applied directly to anti-poaching efforts in Niassa National Park, which is being co-managed by WCS and the Government of Mozambique. Specifically, the funds support the park rangers who risk their lives to protect these majestic and intelligent creatures.
Wildlife Conservation Society - Maya Forest Corridor
Since 2020, FON has helped secure 53,000 acres (21,448 hectares) of rainforest in Belize.
Focused On Nature's combined grants of $572,000 to the Wildlife Conservation Society and Re:wild have helped protect the vital ecosystem of the Maya Forest Corridor.
The beautiful forests of Central Belize connect two of the largest areas of unbroken protected habitat in Mesoamerica. If connected, these two landscapes— the Maya Mountains of Southern Belize and the Selva Maya forest region in Belize, Mexico, and Guatemala —would create the largest of the Five Great Forests of Mesoamerica.
Sadly, Central Belize has been devastated by unsustainable agriculture in recent years – threatening to break the connection between these massive forest blocks, which would be devastating for the wildlife who call them home.
The individual parcels of land in the corridor are owned by many different types of people, from farmers to private owners, and this is a challenging project as wildlife organizations are partnering to purchase the land from many different groups.
In 2020 and 2021, Focused On Nature's contributions of $372,000 to Phase 1 of the project helped acquire 30,000 acres of this vital corridor.
In Phase 2, the Wildlife Conservation Society and Re:wild are seeking to acquire an additional 23,000 acres to secure the wildlife corridor. With our 2022 grant of $200,000 and our pledge of $450,000 by July 2023, FON is helping secure another 584 acres of Phase 2's critical landscape.
The Maya Forest Corridor's broadleaf tropical forests still host White-lipped Peccaries, which are indicative of forests with limited human intervention, as they have disappeared from 87% of their historic range in Mesoamerica due to habitat loss and unsustainable hunting (Reyna-Hurtadoet al.2018).
The corridor also constitutes important habitat for a tremendous diversity of resident and migratory birds, including the globally endangered non-migratory Yellow-headed Amazon (Amazona oratrix), the charismatic White-collared Manakin (Manacuscandei), and the Great Currasow (Craxrubra), an important indicator of healthy forests.
Several endangered mammal species make this forest their homes, including the Baird's Tapir (Tapirus bairdii), the Yucatán Spider Monkey (Ateles geoffroyiyucatanensis), Central American Spider Monkey (Ateles geoffroyi) and the Yucatán Black Howler Monkey (Alouattapigra).
The charismatic and critically endangered Central American River Turtle (Dermatemysmawii) - one of the world's most endangered turtles - occurs in the creeksand lagoons of the Cox Lagoon wetlands in the Maya Forest Corridor, and this site has been determined as the most critical location for protection of the species in Belize. Importantly, recent radio-collar studies unequivocally demonstrate that jaguars and tapirs are still actively using the corridor to move between the two forest blocks.
Wolves of the Rockies
Wolves of the Rockies' mission is to Protect & Defend Wolves of the Rocky Mountains through advocating and education. Gathering wolf advocates around the world to consolidate our voices into a force that will influence the protection and acceptance of wolves in the Rocky Mountain Region. Wolves of the Rockies (WotR) is a 501(c)(3) not-for-profit organization working to ensure that a viable, healthy population of gray wolves occupy their native historic lands. Educating people with facts about wolfs, and wolf behavior to counter the negative image created by commercial interest groups, fictional entertainment and extremism. Advocating through speaking at government/public forums to ensure accurate data and sound science are being utilized in decision making. Working in cooperation with government agencies and like-minded organizations promoting acceptance of wolves, the benefit of wolves, and the impact of wolves in the ecosystem. Working to promote non-lethal measures to help diminish human conflict with wolves.
WWF
For nearly 60 years, The World Wildlife Fund has been protecting the future of nature. The world's leading conservation organization, WWF works in 100 countries and is supported by more than one million members in the United States and close to five million globally. WWF's unique way of working combines global reach with a foundation in science, involves action at every level from local to global, and ensures the delivery of innovative solutions that meet the needs of both people and nature.